Spring of Hope International (SOHI) is a 501.C3 non-profit organization registered in Spokane, Washington. The organization is dedicated to improving living conditions and promoting Christian spiritual growth among the people of the Karachuonyo region of Kenya and beyond. This is a rural region of approximately 50 square miles with a population of about 50,000. Extreme poverty, disease, and death are commonplace. Since its inception 13 years ago, SOHI has partnered with the hard-working people in this impoverished rural community empowering them to improve their lives. Thousands of lives have been touched. SOHI's mission, vision, and approach are focused on the organization being a catalyst to help local Kenyan communities develop affordable, self-reliant and sustainable solutions to their challenges.
SOHI's work represents a long-term commitment and partnership with the community. The organization is focused on doing transformation efforts with community members as opposed to "for them" or "to them". As mindset change and community transformation take hold and become sustainable within the community, SOHI will organically expand its area of focus to adjacent Locations.
SOHI is a Christian-based non-profit organization. As such, our motivation and the inspiration for our work in Kenya is grounded in our love for Christ and our desire to be His hands and feet in the world to demonstrate and communicate His love and accomplish His purposes. Jesus cared about and ministered to people's physical, emotional, and most importantly their spiritual needs. The fundamental objective of His coming to earth was to provide the means for all mankind to be reconciled to God and fellow mankind. SOHI seeks to emulate that level of love with the people we serve.
SOHI partners with businesses, service organizations (such as rotary), churches, other non-profits, and individuals within the United states to accomplish the mission stated below.
This strategic plan documents the philosophy and approach to community transformation that is being employed by SOHI. In addition, it communicates specific initiatives that are being implemented to accomplish this purpose.
Empowering African Communities with the mindset and resources to alleviate extreme poverty
Holistic and Sustainable growth are the key ingredients in SOHI's approach to poverty alleviation. The organization's foundational premises for addressing poverty are:
History has shown that, except in the case of extreme emergency where immediate life-saving relief is required, handouts by themselves hinder, rather than facilitate sustainably improved community living conditions. This is because "handout-based charity" creates dependency and stifles the confidence and belief, by the local people, that they can improve their situation. Furthermore, well-intentioned "spot fixes" consistently fail to result in lasting solutions. Thus, long term partnership and commitment to community-lead transformation is the optimal approach to help the hurting.
The following list of core principles were derived from years of experience in the region as well as concepts from the book, "Mindset Change for Community Transformation" written by Bishop Titus Masika. This book chronicles the dramatic reduction of poverty that occurred in the Yatta community in central Kenya. As stated by Bishop Masika, "Community development is about people, not projects."
Four core principles adopted by SOHI and local community leaders provide a roadmap against which all initiatives for assistance and empowerment are assessed.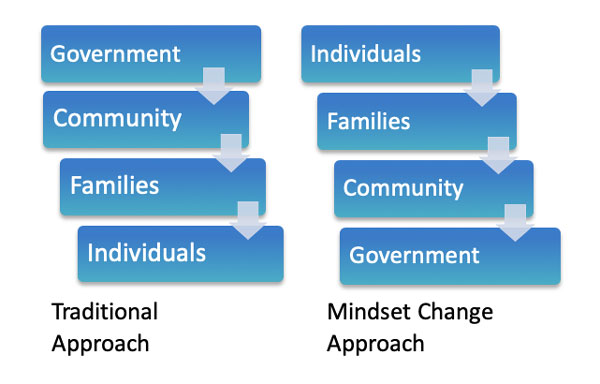 The Mindset Change Approach is essentially the concept promoted by Bishop Masika that proved to be successful in Yatta and other communities in Africa. It is characterized by the following steps:
As an initial step in economic development, irrigation, sourced by the collection of rainwater in hand dug water pans, will permit year-round farming and reliable crops for food security. This action will improve peoples' physical and emotional health and foster increased productivity and learning capacity. It will also result in crop yields greater than basic family survival needs. This excess can be sold thereby providing economic resources within the community for educational improvements, improved family living conditions, and starting new economic enterprises.
SOHI in collaboration with community leaders has identified four aspects of community life, termed Focus Areas, that are considered essential. The four Focus Areas that have been adopted include: Clean Water (and sanitation), Education, Economic Development, and Spiritual Development.  These four areas, when addressed simultaneously within and by the community, will improve the physical, emotional, and spiritual well-being of the people and reduce poverty in a holistic way.
The Kenyan community, with the help of SOHI, has assembled four committees corresponding to the focus areas. They are made up of individuals with leadership talents, passion, and abilities to lead transformation initiatives in their respective focus areas. SOHI has assembled parallel "sister" committees in the United States to collaborate with the local committees. The functional model diagram, shown in Figure 2-1, provides a visual representation of the parallel committees' inter-relationship.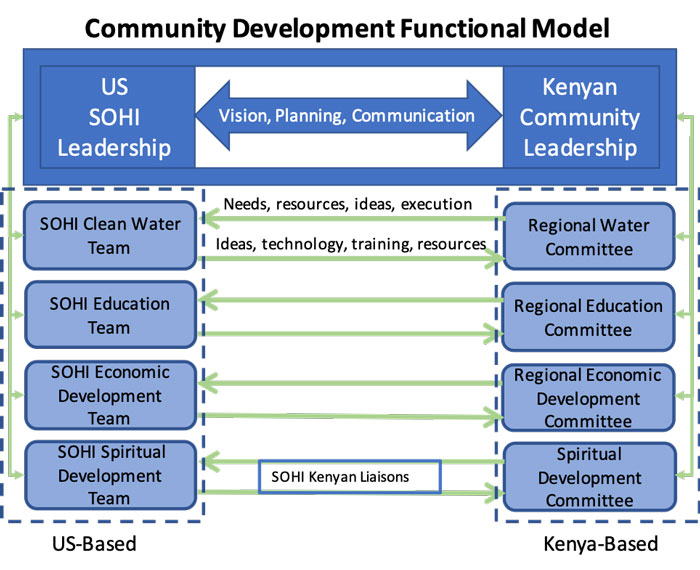 Each Kenya-based committee, is supported by a corresponding committee in the US. Typically, two community members participate from each of the four locations (similar to counties in the US): West Kanyaluo, South Kanyaluo, East Kanyaluo, and Kanyipir. US committees are made up of typically 3 – 6 individuals that: 1) understand and are passionate about the work SOHI is doing in Kenya, 2) feel called to support the efforts within a specific focus area, have experience and/or expertise that will be beneficial to the committee's efforts, and 3) have the ability and willingness to commit time to participating on the work of the committee. Important to the success of this model are four SOHI Kenyan employees, local to the region, who act as liaisons to facilitate communication between the US and Kenyan sister committees for each focus area. These individuals also act as the primary "on the ground" advocates and conduits for implementation of community transformation initiatives.
In keeping with the "Core Principles of Community Transformation", Kenyan committees lead community transformation initiatives working partnering with their corresponding US counterparts as well as the other focus area committees. It should be noted that efforts in all four focus areas are interrelated and that great synergy can be realized through collaboration between committees.
SOHI's goal is to systematically promote healthy organic growth of community life improvements across the entire region. As one community is empowered, local community members become the catalyst, trainers, and leaders for continuing the work in neighboring areas. SOHI will continue to expand its support progressively across the region. Empowerment spreads as SOHI's assistance comes with an expectation that the recipients will freely share what is learned with their neighbors. Indeed, this is already becoming a reality in the Kanyaluo Location and beyond.
Because of the different attributes and needs in each focus area, the different committees operate somewhat differently within the guidelines of the core principles discussed previously. Following are some common functions and activities that fall within the responsibility of committees.
Establish a charter that guides the responsibility and objectives of the committee.
Determine and prioritize the greatest areas of need within the focus area.
Identify community-based solutions.
Identify local resources that can be utilized to implement solutions.
Prepare plans for moving forward on initiatives. Share needs and plans with US committees for thoughts, ideas, and assistance.
Train, encourage, and inspire community members to engage in plan implementation.
Mobilize the community to get involved in community transformation efforts.
Interface with the government on efforts and initiatives affecting the community. Acquire assistance where possible.
Oversee sustainable solution initiative implementation.
Generate and propose simple, transferrable, sustainable ideas and technology solutions for community identified needs. Present these to the corresponding Kenya committee.
Prepare research, analyses, studies, calculations.
Arrange and/or perform training in Kenya.
Develop tools/aids for planning, tracking progress, and pursuing funding.
Apply for grants for special projects.
Establish partnerships with NGOs to strengthen the resources and capabilities of SOHI.
Spread the word about SOHI's work to generate new support in the US.
Help raise funds for specific initiatives within the focus area or SOHI's work in general.
Submit an annual budget for work within the focus area.
Submit funding requests to SOHI board for special needs.
Recruit for and participate in vision trips to Kenya.
The phrase "Water is Life" is far truer than most Americans can begin to comprehend. Water-borne disease and death is a common fact of life in the Karachuonyo region. The leading cause is that the most readily available source of water is highly contaminated ponds and rivers. The only sizable source of clean water is found deep underground through volcanic rock in an aquafer approximately 300 ft below grade. The only access to it is from wells that must be mechanically drilled at a historical cost of approximately $25,000 each—an amount that is beyond the reach of these people living in great poverty. These conditions have left people living in the area with two choices get their daily supply of water. To walk up to several kilometers a day in the scorching sun and stand in line for hours to get clean water from the limited number of operational wells. Or, to resort to drinking toxic water from nearby stagnant ponds and rivers. One choice makes the people dedicate many hours every day to getting water which severely limits their ability to farm, work, or go to school. The other choice leads to almost certain sickness which is often deadly—especially to children and the elderly. Sadly, when clean water is not available within a reasonable distance, people are often forced to make the latter choice; disease and death are commonplace. SOHI's goal is to work with the community to make clean water available to each person with a walk of less than 1 km.
Improved health and sanitation is another key factor combined with clean water initiatives that will dramatically improve the physical health of people within the community. Measures to address this aspect of community health typically focus on provision and use of well-built latrines as well as training on basic hygiene practices.
For 13 years, SOHI has worked to alleviate the lack of clean water by rehabilitating long-defunct legacy wells and drilling new ones. Through these efforts, as of the end of 2017, the region has 28 operational wells. It is estimated that approximately 45% of the population now has access to clean water within a 1km walking distance; up from about 27% in 2015. Needless to say, great progress has been made, but much work remains to be done.
In order to maximize the community benefit afforded by each well drilled, the Regional Water Committee (RWC) has been formed by the local chiefs. The intent of this committee is to:
To ensure sustainability, prior to rehabilitating or drilling a well, SOHI works with the RWC and local chief to establish a well committee made up of local individuals to manage each well that is rehabilitated or drilled. This group is trained on and responsible for the operation, sanitation, maintenance, and repair of the well pump prior to SOHI turning ownership over to the community. The committee monitors and maintains the well and charges a small fee for water taken. This money is accumulated such that within 3 years' time, enough has been saved to afford the purchase of a rebuild/repair kit for the pump. Thus, the people using the well keep it in good operating condition without continual assistance from outside sources (aka, it is sustainable). It should be noted that no one is refused water from a SOHI-drilled or rehabilitated well; if a family cannot afford the small use-charge, they are allowed to work for the water taken.
Two key clean water tools have been developed for use in collaboration between the Kenyan RWC and SOHI. First, the Clean Water Table is an Excel spreadsheet that identifies all public clean water sources in the region. This table, provided in Appendix A, identifies the type of water source, GIS coordinates, operability, and other pertinent information on each clean water source. Table 3-1, below provides a summary of the clean water conditions as of April 2018.

The second tool is the Clean Water Map shown in Figure 3-1. This map locates all public clean water wells in the region. Green, yellow, and red radiuses around each well represent 1, 2, and 3km distances from the wells respectively. These radiuses are used for determination of maximum distances that families throughout the region must walk for water. The goal is that eventually, the region will be completely green meaning that no one has to walk further than 1km each way to get clean water.
The Clean Water Table and Map are valuable planning tools used by the RWC and SOHI to determine the greatest need areas for upcoming well drilling operations as funding allows or for interim relief operations. The highest priority regions are typically red in color. However, factors in addition to walking distance, such as the presence of a school or clinic, or a high population density, are considered as well in prioritization using an Excel-based tool developed by SOHI and the RWC.
The Clean Water Map is also a valuable communication tool. It provides a mechanism for SOHI to visually demonstrate to existing and prospective stakeholders (e.g., financial donors, churches, and business partners) the great amount of progress that has made to date while highlighting the substantial remaining need for additional wells. The map and prioritization tool demonstrate that a well thought out process has been developed to ensure that donations are used to the maximum benefit possible in efforts to alleviate the serious water crisis that exists.
It is estimated that 30-35 additional wells will be required to achieve the goal of less than 1 km walking distance for clean water for all people in SOHI's current area of focus. At historical well drilling costs, this constitutes greater than $800,000 of funds needed.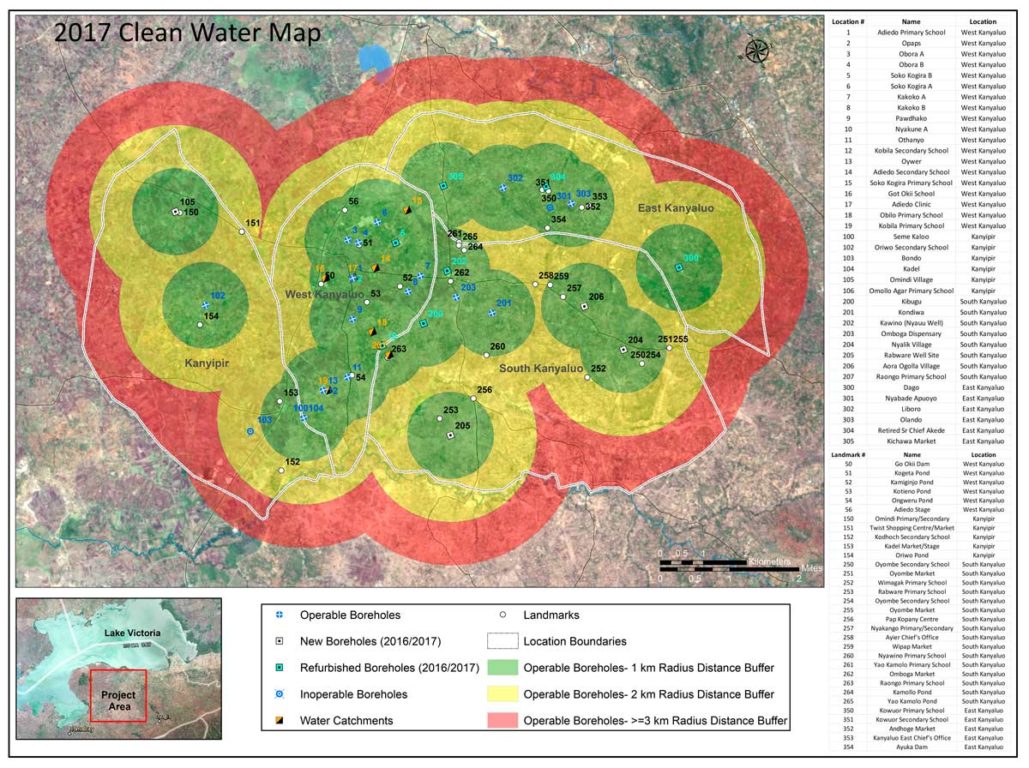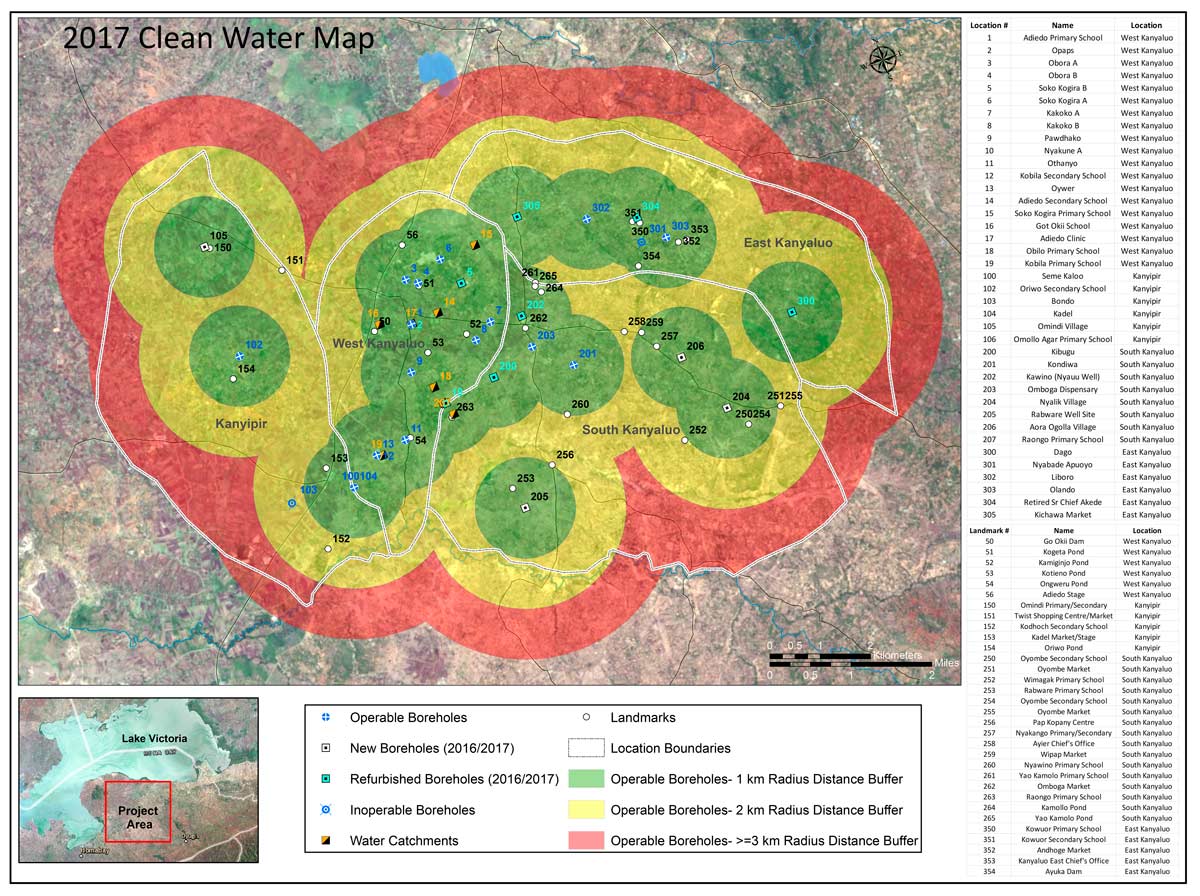 Ongoing efforts to reduce the cost of drilling wells has revealed two non-profit organizations working in Kenya that are interested in partnering with SOHI. Estimated costs of drilling each well with these organizations is on the order of $15,000 – $17,000. Thus, provided these partnerships work out, available funds can be stretched further to reduce the total cost of completing the clean water goal.
3.1.1.2 Rain Catchment
A second sustainable source of clean water is through the collection of rain water from metal roofs. Due to the seasonal nature of rainfall in the subject region, it is necessary to provide tanks to store water in sufficient capacity to last through the two droughts lasting from two to four months each year. This solution is primarily suitable for institutions such as schools and medical clinics. SOHI has installed rain catchment at several schools and clinics.
3.1.1.3 Biosand Filtration
As a small non-governmental organization (NGO), raising sufficient funds to drill wells that will turn the entire Water Map green may take many years unless a large grant from an NGO or corporate sponsor can be attained. Thus, SOHI is implementing a program to provide near-term relief for the estimated 27,500 people that currently do not have reasonable access to clean water. This interim relief program will make available in-home bio-sand filters to those households at an attainable cost.
Bio-sand filters, if properly operated and maintained, are reported to be up to 98-99% effective in the elimination of dangerous parasites and disease organisms from contaminated surface water. Proper use of these filters will allow people living away from existing wells to use their current source of water (e.g., ponds, rivers, or water pans) for domestic purposes with greatly reduced health risks.
SOHI has purchased 8 molds and construction equipment for casting the concrete vessels for the biosand filters and built a secure storage building for housing equipment. Community members (predominantly the RWC) have been trained on filter construction, operation, and maintenance. The RWC has begun an extensive community educational effort in cooperation with regional chiefs to instruct people on the benefits of using filters. Our collective goal is for the community to run a sustainable, non-profit industry to build and distribute filters to those that need them at a reasonable cost. It is anticipated that filters will be affordable for the people who need them most; hopefully—hopefully under $12.
In 2018, SOHI began a pilot program to fund the construction of the first 200 biosand filters that will be given to the marginalized and most needy community members, such as the old grand mamas that are struggling to raise 3 or 4 grandchildren whose parents died from the AIDS epidemic. This pilot project will get clean water to an estimated 1,400 people. Biosand filters for the pilot project are currently being fabricated by local community members and delivered to recipients after providing training in their proper operation and maintenance. As of May 2018, 86 filters have been constructed and installed and recipient training provided.
There are currently 41 primary and secondary public schools in SOHI's area of focus educating approximately 15,000 children. Five are boarding schools and 36 are day schools.
The Regional Education Committee (REC), as part of their early committee activities, brainstormed and prioritized the greatest challenges faced by schools. While infrastructure and academic resources are in serious need of attention, the majority of the pressing problems identified focus around basic needs essential to the physical health, mental acuity, and emotional well-being of the students. Meeting these needs will result in an environment that is conducive to learning. The following issues that need near-term attention include:
inadequate supply of clean water
insufficient toilet facilities
lack of basic health & sanitation training
discouragement and depression among secondary students
lack of nutritious food
lack of sanitary hygiene supplies for girls
Clean Water
A recent survey shows that 93% of the public schools have a major shortage of clean water for much of the year. This problem exists throughout the year but is particularly egregious during the two extended droughts that occur each year when some boreholes quit producing water and nearby ponds dry up. During the most recent drought (November 2017 – mid-March 2018) the REC reported that the problem was reaching catastrophic levels. Boys and girls were having to walk several kilometers in the evenings to find water for the schools. Often, the only water to be found was disease infested brackish water from the few ponds or rivers with water remaining. Since this was all that was available, this is often what the children drank. As a result, many students were sick and medical clinics were overflowing with sick and dying children. In addition, it was reported that during the walks for water— the girls are known to have be preyed upon by men—it is dangerous. Personal trauma and unwanted pregnancies are the result. They are desperate for a solution.
Toilet Facilities
Schools do not have a sufficient quantity of water nor are their water resources pressurized to support first-world flush-type toilets. Thus, schools utilize outhouses (called latrines) to address this need. Having an adequate number of latrines at schools is critical to sanitation and health. Disease is easily spread by fecal contamination through overused latrines and the use of "the great outdoors". School officials report that 98% of schools have a serious shortage of latrine facilities. At many schools, long lines form at the few existing school latrines.
Sanitation and Hygiene Training
A third, and similarly critical, problem is a lack of sanitation and hygiene training for students. It is reported that 88% of schools do not have the resources or expertise to provide this training. Diseases including (but not limited to) malaria, cholera, HIV/AIDs, dysentery, and yellow fever are common in the region. Outbreaks of these diseases, in epidemic proportion, often spread through the area causing sickness and death impacting families and school children. A firsthand account from one primary school principal (Thomas, from Rongo Primary School) illustrated how basic training can dramatically reduce the spread of these deadly diseases. He tells that shortly after SOHI provided basic health and sanitation training to his students a cholera epidemic spread through the area. Almost miraculously, his school was essentially bypassed by this malady.
Discouragement and Depression Among Secondary School Students
Students have been told that their path out of poverty and a hopeful future is through education. While academics is definitely a necessary part of the equation for poverty alleviation mental and emotional hurdles must be addressed as well. The students realize that with a 95% unemployment rate in the area even a university education will in no way guarantee a job when they complete school. Hence, many of the students are very discouraged by their prospects for the future. This is resulting an alarming number of students drop out of school to drive a boda boda (motor cycle taxi), become involved with alcohol and drug use, unwanted pregnancy, devil worship, and even demon possession.
Nutritious Food
Due to droughts that commonly destroy crops before they yield food on families' subsistence farms and the extremely high unemployment rate there is frequently not enough for students to eat at home. Children come to school desperately hungry. When students are that hungry, they struggle to concentrate on their studies. School administrators typically try to provide some amount of nutrition to reduce this problem. Unfortunately, government funding for schools is extremely low and student fees are limited so providing food to students is a challenge.
Sanitary Hygiene Supplies
Young women, primarily in secondary schools, do not have money to purchase feminine hygiene supplies for use during their menstrual cycle. Consequently, many of them are forced to stay home from school for up to a week per month.
SOHI is working with the REC to implement measures that will address the challenges identified above.
3.2.2.1 WASH
Water and Sanitation for Hygiene (WASH) is a comprehensive term used to indicate measures to address clean water, separation of human waste with contact with people, and basic sanitation practices such as hand washing with soap. Heretofore, SOHI has only had the resources to address WASH on a limited basis in certain schools and clinics by providing a limited number of wells, rain catchment systems, latrines, and health and sanitation training. This assistance, while greatly appreciated, has not resulted in a sustainable community-wide solution.
SOHI and the REC collaborated on an assessment in early 2018 which resulted in the Public School Table provided in Appendix B. This assessment identified the need for:
New or enhanced rain gutters at 38 schools with 127 poly rain water storage tanks (10,000L),
229 latrine "doors", and
Training of at least 72 school staff to teach health & sanitation practices as a regular part of the school curriculum
In 2018, SOHI is embarking on a campaign, entitled "I was Thirsty…", to provide sufficient resources for community-wide solutions to the clean water, toilet, and sanitation & hygiene issues in all 41 schools. Implementation of these measures is anticipated to have a dramatic positive impact on the health of the students with a ripple effect on their families when students take good sanitation & hygiene practices home from school. Better health means better focus and learning ability. The cost estimate for accomplish these improvements is approximately $360,000. Planning is underway to implement this two-year campaign.
3.2.2.2 Discouragement and Depression Among Secondary School Students
SOHI and the REC have begun collaboration with Pastor Michael Masambu to address the issue of students' emotional health. Pastor Masambu works throughout Kenya and numerous places around the world helping educators and churches to address the emotional health problems experienced by youth. The primary focus is on mindset change through helping students discovering their purpose in life and a vision for their future. To date, he has done three seminars in the region working with over 400 educators and pastors. He is assisting the local educators in employing curriculum that will encourage and inspire the students. Members of the Regional Spiritual Development Committee (RSDC) and other local pastors are also engaging in resolution of this problem.
In addition, SOHI is also sponsoring a locally planned Youth Seminar that will occur in August of 2018. The focus will be helping to affect positive mindset change in the students. Pastor Masambu will be the keynote speaker at this seminar.
3.2.2.3 Nutritious Food
SOHI is promoting the digging of water pans (ponds) and vegetable gardens on school property. The gardens will provide a low-cost source of nutritious food to feed students as well as being a source of hands-on agricultural education. Water pans will provide water to irrigate the gardens as described in Section 3.3.1.
3.2.2.4 Child Sponsorship
SOHI operates a child sponsorship program that provides the resources for orphaned children to attend school. The Child Sponsorship Program seeks to build meaningful relationships between Kenyan children and their sponsors. Through monthly support, sponsors not only provide for the child's physical needs but also brings much needed strength and encouragement in the Lord. SOHI's Child Sponsorship Program is currently helping 178 children in the Karachuonyo region (thru 143 sponsors from all over the US).
The primary focus of sponsorship is providing school fees, supplies, and the required uniforms for primary and secondary aged children. Sponsorship also provides basic items including a blanket, shoes and personal hygiene articles such as a toothbrush. Most of these children have lost one or both parents and without support would not be able to attend school.
SOHI's program is similar to others in that we provide for the child's needs but different in that we also strive to provide a more personal relationship. SOHI's approach is responsive to individual needs of sponsored children. Staff in Kenya personally visits each child multiple times each year and are knowledgeable about them and their family. Another advantage is that sponsors are able to meet their sponsored child in person by participating in one of the two annual "Vision Trips" to Kenya.
Most people in the Karachuonyo region survive based on subsistence farming. Unemployment is approximately 95% and the average income for community families is estimated to be less than $1/day—many have no source of income. Statistics provided by the Regional Economic Committee indicate that:
80% of the people have no source of income and "little or no food and live hand-to-mouth",
16% have some means of income and/or have implemented water pans (described below) and have enough to eat without any excess, and
4% have marketable skills or a business and have more than enough to eat.
This semi-arid region normally has two heavy rainfalls per year. Followed by a drought lasting two to four months. Over the past several years, this cycle of flooding rains and devastating droughts has increased in severity often causing crop failures. Farmers prepare their fields during the drought and wait for the rains. When the rains start, they quickly plant their crops and then hope that the rainfall isn't so hard that it washes the soil off the seeds causing crop failure. If the crops survive the rain, the farmers pray that there will be enough moisture in the soil during the ensuing drought for there to be a harvest. Often times, the yield is very low or non-existent. Starvation follows.
3.3.1.1 Water Pans
SOHI has been working with the REC to educate and encourage families to dig water pans (ponds) on their small plot of land. This concept is borrowed from a community near Nairobi call Yatta. Over the course of several years, Yatta resolved their food security crisis and transformed themselves into an economically stable region that no longer accepts outside aid from the government or non-government organizations. This is the goal for the Karachuonyo region.
A pond is dug that is initially 15' x 18' x 6' deep at the lowest elevation on the family's property. Trenches are then dug to channel rain water into the pond when it rains. Water in the pans is used for irrigation during the droughts, fish farming with catfish, and even domestic water if used in conjunction with biosand filters. In the one year since the concept was introduced to the community, many people have grasped the benefit these pans provide to their lives and are very enthusiastic. Nearly 100 pans have been dug at this time and many more are underway.
The photos below show a water pan during construction, a catfish that was raised in a water pain, and the dramatic difference between crops that benefit from water pan irrigation and those that don't. It's obvious why digging a water pan is worth the effort.
Crops Thrive. Starvation Ends. Excess is Sold. And the Engine of Economy is Started.
SOHI has initiated a pilot project to dig 80 water pans in 2018 for the neediest families in the region. In addition to helping those that are not able to dig their own pans, this initiative will help spread the word throughout the community on the benefit of water pans since seeing is believing. This will help to maintain the momentum so that more and more families will dig them. Water pans have the potential to change the economic circumstance of the 80% of the people that are living hand-to-mouth. Our mantra is:
3.3.1.2 Agricultural Training
An initiative is being worked on in cooperation with the REC for training and a demonstration farm featuring low or zero tillage farming techniques. Combined with irrigation, these skills can result in crop yields several hundred percent higher than has been achievable in the past.
The REC requested training on basic home and business economics. This training will be provided as part of the Community Leadership Seminar that will be held during the September 2018 Vision Trip. Since most people in the community have never had "excess" funds, they can greatly benefit from training on the most beneficial ways of managing money.
While the Karachuonyo region is predominantly Christian, many other religions exist in the community. Also, many people profess no religious faith or are not living out their faith in their daily lives. The two fundamental objects of SOHI in the area of spiritual development are: 1) outreach–sharing the Good News of restored relationship with God through Jesus Christ, and 2) encouraging and strengthening the church.
3.4.1.1 Pastor Training
Numerous small churches of various denominations exist throughout the region. A large share of the pastors of these churches, while loving and Godly individuals, have no formal Biblical training. SOHI partners with ???? to provide a 3-year intensive Biblical training program to 30 pastors at a time. There is always a waiting list made up of additional pastors desiring training.
Due to the number of pastors desiring training, SOHI, in cooperation with the Regional Spiritual Development Committee (RSDC), is evaluating the possibility of starting a 1-year training program that will cover the basics of Biblical hermeneutics and theology in a "certificate" level program. This will be evaluated, and a curriculum developed in 2018 with a planned kickoff in 2019.
3.4.1.2 Evangelistic Outreach Campaign
SOHI sponsors an area-wide multi-day outreach campaign every two years. The RSDC does the majority of planning and coordination for these events. This outdoor campaign draws several thousand community members for a time of worship, teaching, and healing. Hundreds of people commit their lives to Christ. Community pastors are connected with new Christians to disciple them and engage them to become part of a church family.
A campaign will be held in September of 2018 in conjunction with the SOHI Vision Trip.
3.4.1.3 Bible Distribution
SOHI distributes Bibles in the local Luo language through churches and at the outreach campaigns. Community members are excited to have their own copies of the Bible so that they can study and grow in their walk with Christ.
3.4.1.4 Prison Ministry
There are two prisons in or near SOHI's area of focus. Each Vision Trip includes a visit to one or both of these institutions. The Word of God is preached to the remarkably receptive inmates. Many accept the Lord on each visit.
3.4.1.5 Leadership Training Seminar
SOHI provides leadership seminar for around 500 pastors and other community leaders every two years. A 3-day seminar will be held during the 2018 September Vision Trip. Sessions will be taught by Vision Trip participants and local Kenyan leaders. A wide range of topics will be covered. Examples being considered include:
Discover the will of God in your life
Walking with God
Mindset change
Servant leadership
Family life
Stewardship—"He owns, I manage"
Entrepreneurialship
Money management
Appendix A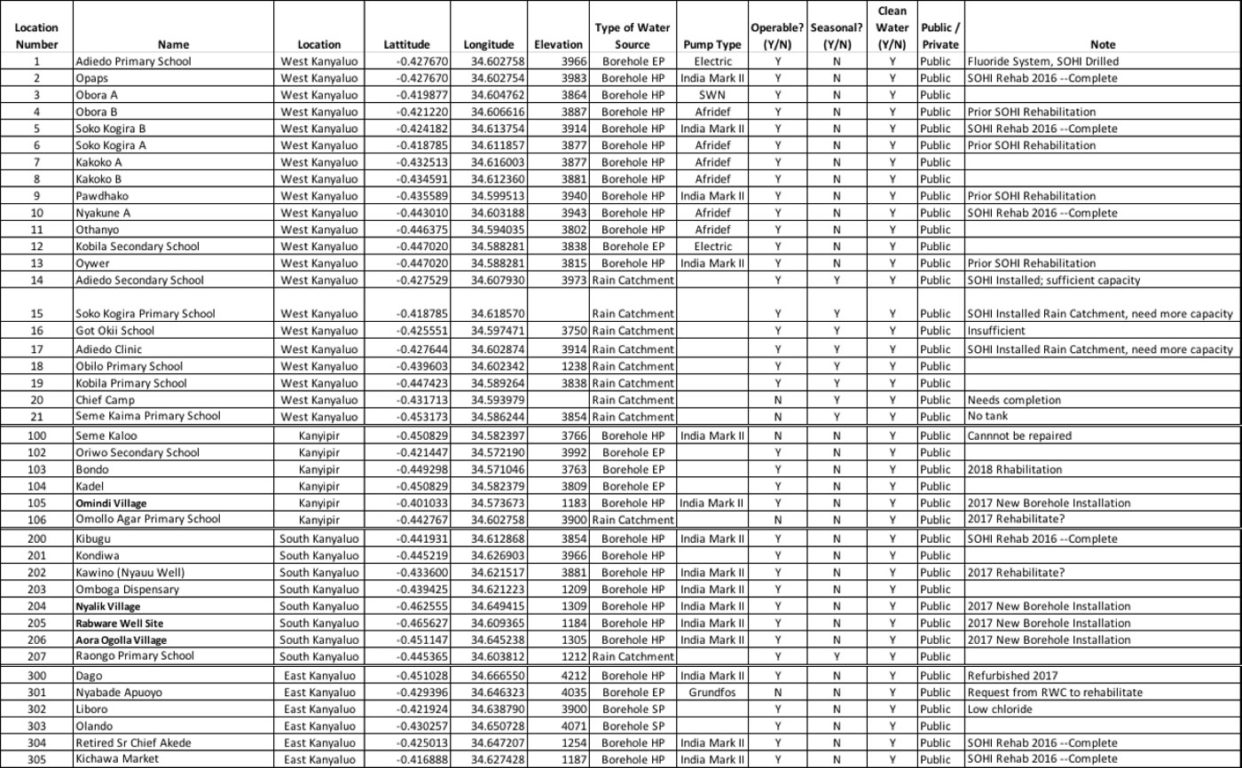 Appendix B